A few months ago, our Norman Rockwell Theme Save the Date was published on Green Wedding Shoes.   I have to say, it grabbed some attention and interest amongst many brides.   I actually found a really cool site because of our save the date.  That post will be coming later on.   Here is a copy of our save the date that was posted, if you want to know more of the design behind it you can find that on our original post.
Front (Left) – Back (Right)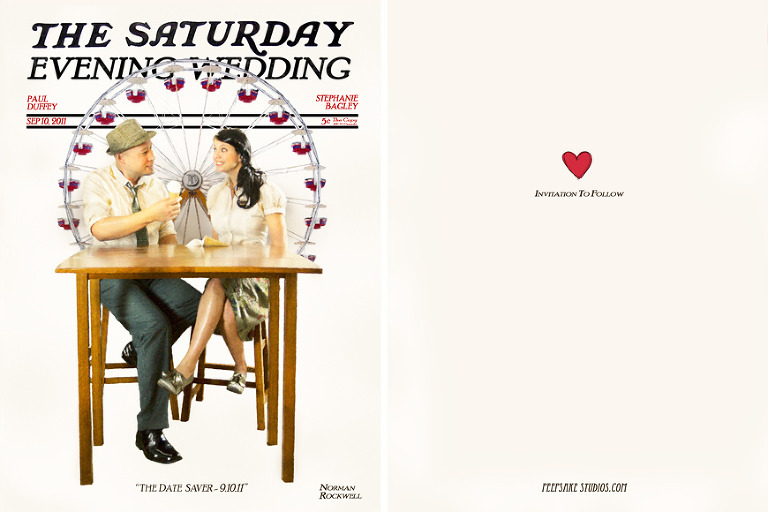 A very sweet girl emailed me very excited with ideas and inquiries on her upcoming wedding.   I have to say, her wedding sounds like so much fun!  If she didn't live in Canada, I would probably be a wedding crasher. haha.  Anyhow,  the whole feel for her wedding is vintage theme with antique details and it's located on on her parents farm.  She even has a cute little wagon ride taking the guest to the ceremony site that is nestled into the woods.   Don't you want to go too?    Hollis and her fiance, Jason, met playing on the same baseball team.  So she knew she wanted to incorporate that somehow.  She also wanted to tie in a cake b/c she owns a bakery as well.   We collaborated over email and Paul gave her some techniques on best lighting since we weren't there to take the pictures.    This is the end result.   I think it looks fabulous!   Hollis and Jason, you guys look wonderful and congrats and enjoy your big day!    I also want to say, my fiance, Paul, he has some mack daddy photo-shop skillz right?!   :)   I will post actual pictures soon too.  These designs are printed on a linen texture paper that really helps complete the look even more.
Front (Left) – Back (Right)